Smooth Surface
Strong and Durable
Resistant to Vandalism and Corrosion
Resistant to Moisture and Humidity
Available in 10 Standard Colors
Mounting Styles Available
Pricing
Below pricing is based on the floor mounted overhead bracing style only. Please contact us for pricing on any other mounting styles.
Prices do not include freight or taxes.
Handicap stalls are extra.
Please call 1-877-431-7078 toll free with any pricing questions.
We can accommodate any size opening or layout!
Color-Free Phenolic is also available!
Black Core Solid Phenolic Floor Mounted Overhead Braced Between Wall One
$496.00
Black Core Solid Phenolic Floor mounted Overhead Braced Between Wall Two
$1096.00
Black Core Solid Phenolic Floor Mounted Overhead Braced Between Wall Three
$1681.00
Black Core Solid Phenolic Floor Mounted Overhead Braced In-Corner One
$749.00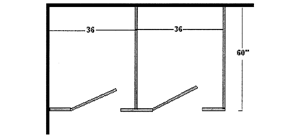 Black Core Solid Phenolic Floor Mounted Overhead Braced In-Corner Two
$1367.00
Black Core Solid Phenolic Floor Mounted Overhead Braced In-Corner Three
$1997.00