Manning Materials Inc. offers a complete line of commercial lockers. Our metal lockers, solid plastic lockers, plastic laminate lockers, phenolic lockers, and wood lockers can accommodate just about any application your project or design may require. Lockers are available in a wide range of styles, anywhere from single tier to 6 tier lockers. We can ship pre-assembled lockers anywhere in the US. Please contact us for more information and pricing assistance.
Single Tier Traditional Locker
This traditional series locker is the most common and widely used style. It is available in single to multi tiers and has a powder coated finish that is available in multiple colors.
Double Tier Traditional Plus
This more durable traditional locker is recommended for the most demanding usage requirements. This is also available in single to multiple tiers and has a wide range of powder coated colors.
Three Tier Competitor Lockers
This competitor series locker features both ventilation and visibility while maintaining the strength for needed durability. This is available in single, double, and three tier styles.
Solid Plastic Lockers
These virtually maintenance free lockers can stand up to high moisture locations and will never rot, fade, or rust. These lockers are available in single tier to multi tier styles with a wide selection of colors.
Pro Lockers
This locker is best suited for sports locker rooms. This style is available in almost any configuration that would best fit your needs. It is also available in a number of powder coated finishes.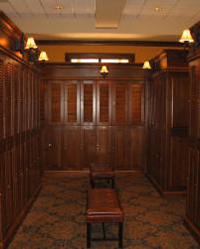 Louvered Wood Lockers
These custom wood lockers are available in almost any configuration and wood finish. Available styles include louvered and flat panel doors, single and double tier.
Raised Panel Custom Wood Lockers
These lockers offer an upscale appearance as seen in upper tier fitness centers and country clubs.