Restroom graffiti is a pesky problem in many restroom stalls. The type of environment doesn't matter either; we've seen it everywhere. Whether it's a restroom in a school, bar, restaurant, or locker room, graffiti can be a frustrating and time-consuming problem to address. Fortunately, we have a few tips and strategies that you can use to deter would-be vandals and extend the life of your restroom partitions.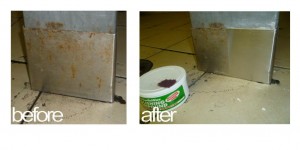 Regular cleaning is one of our most basic tips, and for all of our products, we provide detailed cleaning instructions. It's imperative that whoever is in charge of cleaning takes these guidelines into account for proper maintenance. Here are three other strategies for deterring graffiti in your facility's restrooms:
Timeliness and Proper Cleaning Are Key:
The sooner you catch restroom graffiti, the easier it will be to clean up, which makes a regular cleaning schedule imperative to deterring graffiti. A daily or bi-weekly cleaning schedule provides the best chances to catch graffiti early, although that's not always possible. As mentioned, we provide detailed cleaning guidelines that highlight the right types of tools and solutions to use for each surface.
For instance, laminate stall partitions can be damaged if the wrong cleaning tools or solutions are used. A wire brush can scratch the surface, leading to other pesky problems, such as the surface peeling back. To battle graffiti, it's imperative that stalls are cleaned properly in a timely fashion.
To ensure proper cleaning, it's also imperative that end users, or whoever is doing the cleaning, receive the cleaning instructions. Sometimes, from purchaser to janitorial contractor, these instructions don't always make it the proper personnel, so to manage stall graffiti it's a good idea to start off with all the best information.
Choose the Right Color
If graffiti and vandalism are a chronic problem in your facility, the color of your stall partitions can be a quick, effective solution. Often, we recommend black or other dark colors to deter the would-be vandal. It's a simple deterrent, but we've seen that dark partitions block graffiti, especially from permanent marker and ballpoint pen, and that can save time in the long run.
Of course, this isn't always an option, and it's not 100 percent effective. People will always get creative when leaving graffiti in a public restroom. But if your facility is remodeling, selecting the right color can go a long way in deterring graffiti.
Apply Wax as a Deterrent
It's not the most obvious solution, but wax works great as a deterrent, adding another layer of protection to your stall partition. Every so often it's beneficial to apply furniture wax to laminate partitions and standard car wax to powder-coated metal stalls. A light layer of wax not only makes it more difficult for vandals to leave their mark, but it also makes cleaning easier. With a wax finish, permanent marker and ballpoint pen graffiti will wipe away easier, especially if the problem is caught earlier on.
Of course, these are just a few of our tips for managing restroom stall graffiti and vandalism, but they provide simple, cost-effective solutions for a pesky problem. As always, give us a call if you have questions about managing vandalism in your restroom facility, and we can also provide advice on what direction you might take. Reach us at (615) 248-1001.